Department of Orthopedics
Teaching Staff
| Name | Qualification | Designation |
| --- | --- | --- |
| Dr. Hari j. Menon | MBBS,MS | Professor and Head |
| Dr. Jignesh Patel | MBBS,MS | Professor |
| Dr. Anshul Gupta | MBBS,MS | Associate Professor |
| Dr. Manish Patel | MBBS,MS | Associate Professor |
| Dr. Nitin Chaudhari | MBBS,MS | Associate Professor |
| Dr. Shiv Acharya | MBBS,MS | Associate Professor |
| Dr. Swapnil Nalge | MBBS,MS | Assistant Professor |
| Dr. Parimal Patel | MBBS,MS | Assistant Professor |
| Dr. Krunal Chaudhari | MBBS,MS | Assistant Professor |
| Dr. Nagesh Desai | MBBS,MS | Assistant Professor |
| Dr. Gaurangkumar Chanchpara | MBBS,MS | Assistant Professor |
| Dr. Chirag Patel | MBBS,MS | Assistant Professor |
| Dr. Vishal Mandlevala | MBBS,MS | Assistant Professor |
Resident
| Sr. No. | Name | Designation |
| --- | --- | --- |
| 1 | Dr. Kandarp Patel | Senior Resident |
| 2 | Dr. Hement Yadav | Senior Resident |
| 3 | Dr. Shobhit Taneja | Senior Resident |
| 4 | Dr. Aman Khanna | Senior Resident |
| 5 | Dr. Haresh Sisara | Senior Resident |
| 6 | Dr. Nrutik Patel | Third Year Resident |
| 7 | Dr. Aditya Tripathi | Third Year Resident |
| 8 | Dr. Chandan Narang | Third Year Resident |
| 9 | Dr. Kishan Patel | Third Year Resident |
| 10 | Dr. Swati Kapadiya | Third Year Resident |
| 11 | Dr. Rahul Patel | Third Year Resident |
| 12 | Dr. Ashish Parmar | Third Year Resident |
| 13 | Dr. Ankur Mali | Third Year Resident |
| 14 | Dr. Dipnesh Rathva | Third Year Resident |
| 15 | Dr. Lovish Gulbadhar | Second Year Resident |
| 16 | Dr. Viren Umarethiya | Second Year Resident |
| 17 | Dr. Rishi Patel | Second Year Resident |
| 18 | Dr. Nirmal Parmar | Second Year Resident |
| 19 | Dr. Yash Mehta | Second Year Resident |
| 20 | Dr. Aniket Patel | Second Year Resident |
| 21 | Dr. Misam Uniya | Second Year Resident |
| 22 | Dr. Pranav Dev | Second Year Resident |
| 23 | Dr. Hardik Bhadja | First Year Resident |
| 24 | Dr. Mitul Maniya | First Year Resident |
| 25 | Dr. Premal Chaudhari | First Year Resident |
| 26 | Dr. Tirthraj Dave | First Year Resident |
| 27 | Dr. Nihar Parmar | First Year Resident |
| 28 | Dr. Kishor Chaudhary | First Year Resident |
| 29 | Dr. Priyank Shah | First Year Resident |
| 30 | Dr. Jayraj Mehta | First Year Resident |
| 31 | Dr. Parth Darji | First Year Resident |
Unit List
Unit
Head Of Unit
Senior Resident
Junior Resident
Unit I
Dr Anshul Gupta
Dr Hement Yadav
Dr Ankur Mali
Dr Krunal Chaudhari
Dr Ashish Parmar
Dr Nagesh desai
Dr Aniket Patel
Dr Misam Uniya
Dr Priyank Shah
Dr Jayraj Mehta
Unit II
Dr Hari Menon
Dr Kandarp Patel
Dr. Chandan Narang
Dr Aditya Tripathi
Dr Shiv Acharya
Dr Rishi patel
Dr Swapnil Nalge
Dr Lovish Gulbadar
Dr Kishor Chaudhary
Dr Tirthraj dave
Unit III
Dr Manish Patel
Dr Haresh Sisara
Dr Swati Kapadiya
Dr Chirag Patel
Dr Kishan Patel
Dr Vishal Mandlewala
Dr Pranav Dev
Dr Yash Mehta
Dr Premal Chaudhari
Unit IV
Dr Jignesh Patel
Dr Aman Khanna
Dr Rahul Patel
Dr Parimal Patel
Dr Nirmal Parmar
Dr Hardik Bhadja
Dr Mitul Maniya
Unit V
Dr Nitin Chaudhari
Dr Shobhit Taneja
Dr Dipnesh Rathva
Dr Nrutik Patel
Dr GaurangKumar Chancpara
Dr Viren Umrethiya
Dr Nihar Parmar
Dr Parth Darji
Kindly note that the faculty and resident of those units not in OT; will be working in the OPD for routine and Emergency work.
Publications
PAPER PRESENTATION:
"Foot and Ankle Trauma- Are we too casual?" by DR RAVISH PATEL, DR NITIN CAHUDHRI, DR HARI MENON at IOACON Hyderabad 2014

"Neglected fracture dislocation of talus" by DR RAVISH PATEL, DR NITIN CHAUDHRI, DR HARI MENON at GOACON Junagadh, 2015

A Short term outcome of septic arthritisof hip in children.Dr. NitinChaudhari, Dr. HariMenon, Dr. PremalNaik, Dr. Vipulchaudhari Index in Index Copernicus ISSN: 2395-1958. IJOS 2017; 3(2) : 496-499 @2017 IJOS

Subtrochentric Femur fractures treated with extramedullary or intramedullary fixation at tertiary care centre Dr. Ravish Patel, Dr. HariMenon, Dr. NitinChaudhari, Dr. VipulChaudhari Index in Index Copernicus International Journal of Medical Science And Public Health, 2017, Vol 6, Issue 2

Outcome of short Segment Posterior Instrumentation in Unstable Thoracolumbar Fractures Dr. HariMenon, Dr. SharvilGajjar Index In PUBMED Journal of Clinical And Diagnostic Research. 2016 Nov, Vol – 10 (11): RC04-RC08

Caudal Epidural Steroids in Management of lumbar radiculopathy.Dr. HariMenon, Dr. Sandip patil Index in Index Copernicus ISSN: 2395-1958. IJOS 2017; 3(1) : 664-668 @2017 IJOS

Risk Factors for Septic Arthritis of hip in Neonate and Infants Dr. NitinChaudhari, Dr.SharvilGajjar, Dr. HariMenon, Dr. Yatin Patel Index in Index Copernicus International Journal of research in Orthopaedics,ISSN: 2455-4510

Role of platelet rich plasma in chronic tennis elbow Dr. Hari Menon, Dr. Nitin Chaudhari and Dr. Chintan Sheth ISSN (P): 2521-3466 ISSN (E): 2521-3474 © Clinical Orthopaedics

www.orthoresearchjournal.com

2018; 2(3): 33-37 Received: 12-05-2018 Accepted: 14-06-2018

Comparative evaluation of operative versus non-operative management of midshaft displaced clavicle fractures: A Case Series Dr. Manish Patel, Dr. Jignesh Patel, DrAnshul Gupta, Dr. Shaishav Shah, Dr. Sunny Shethna Indexed In INDEX COPERNICUS ISSN: 2395-1958. IJOS 2017; 3(2) : 594-599 @2017 IJOS
POSTER PRESENTATION:
"DENS FRACTURE – CASE PRESENTATION by DR VISHAL DINDOD, DR HARI MENON, DR ANSHUL GUPTA

"FUNCTIONAL OUTCOMES OF SURGICALLY TREATED CALCANEUM FRACTURES" by DR JOHNY JOSHI, DR ANSHUL GUPTA at GOACON, JUNAGADH 2015

"TEN COMMANDMENTS OF MIDFOOT TRAUMA" by DR RAVISH PATEL, DR HARI MENON, DR RAJIV SHAH at IOACON HYDERABAD, 2014

"FRACTURE TALUS: BE SUSPICIOUS! BE AGGRESSIVE!" by DR RAVISH PATEL, DR ANSHUL GUPTA, DR RAJIV SHAH at IOACON HYDERABAD, 2014

"FOOT AND ANKLE MALUNION: PREVENTION AND MANAGEMENT by DR RAVISH PATEL, DR HARI MENON, DR RAJIV SHAH at IOACON HYDERABAD 2014

"CALCANEAL MALUNION NEEDS TO BE APPROACHED LIKE SPINE" by DR RAVISH PATEL, DR HARI MENON, DR RAJIV SHAH at IOACON HYDERABAD, 2014

"CASE REPORT – CAMPOMELIC DYSPLASIA" by DR ANSHUL GUPTA, DR BV PATEL, DR JAGDISH GOYAL at GOACON SURAT 2010

"Laminospinous process in posterolateral fusions of spine- a comparison of two different techniques" at International Conference on Spinal Deformities in October, 2007 held at New Delhi

ccipito Cervical fusion in case of C1-C2 Subluxation, Dr Jatin Patel,Goacon 2019

Case report of 3 year old female child with Blount disease corrected with oblique proximal tibia Osteotomy/ RABS Osteotomy, Dr Anshul gupta,Dr Jitendra Singh, Dr Aman Khanna Goacon 2019

Conservatively treated atlanto axial subluxation in 4 year old female patient with cervical halter traction, Dr Shahrukh Pathan , Goacon 2019

Tendoachilis reconstruction by FHL tendon transfer, Dr Pratik Sidhdhapuria,Goacon 2019
FACULTY/ LECTURES/ PODIUM PRESENTATIONS:[DR HARI J MENON]
Presentation on "Etiopathology of Degenerative Lumbar Disc Disease" at Rajkot, 2011 under Spine Association of Gujarat

Presentation of "Pedicle Screw insertion technique" at Video Operative Spine Course, Ahmedabad, 2012

Presentation on "Kyphoplasty" at Postgraduate Lecture Course, Jamnagar, in 2014

Presentation on "Rehabilitation of Paraplegic" at Shalby Hospital, Ahmedabad in 2014

Presentation on "Review of Literature-Isthmic Spondylolosthesis" at Spine Association of Gujarat Meet, at Ahmedabad in 2014

Presentation on "Bone Morphogenic Proteins" at Post Graduate Lecture Course, Rajkot 2015

Presentation on "Role of prophylactic Teriparatide?" at Spine Assocation of Gujarat, Annual Meet, June 2015 at Ahmedabad

Presentation on "Lumbar Intervertebral Disc Prolapse" at Shalby Hospital, Ahmedabad in June 2015

Invited as Faculty at the "AOSPINE SCOLIOSIS WEEK" at KOCHI, KERALA 2010

Spine Association of Gujrat invited Dr. Hari Menon As a Faculty in Conference SAG 2019 held in september 2019 Ahmedabad. Presentation On "Sacro-Pelvic
Fixation".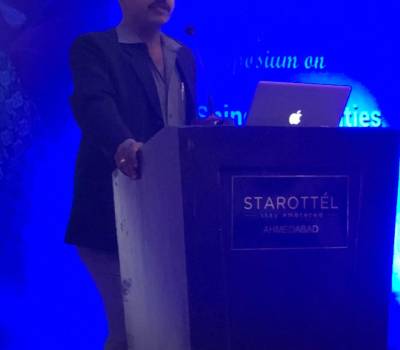 Presentation on " Thoraco - Lumbar Fractures" at PGLC, Karamsad 2019.
FACULTY/ LECTURE :[DR ANSHUL GUPTA]
AO basic table instructor in Oct. 2011

AO prebasic course as faculty in Aug 2013
CME and Workshops
The department of Orthopaedics has organized "Live Surgical Workshop for Uncemented Total Hip Replacement" in September 2014

Web cast CME under the Indian Orthopaedic Association in September 2015

Department of Orthopedics , GMC, Surat Had organised CME on BASIC FRACTURE FIXATION COURSE on 8th September 2018 Faculty : Rajiv Rai Chaudhari, Dr Nikhil Vachchharajani, Surat
Association of Spine Surgeon of india invited Dr Hari Menon as A Faculty in ASSICON 2019 Conference held in January 2019 in Ahmedabad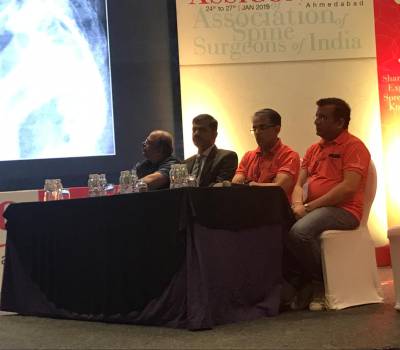 Department of Orthopedic & Radiology organized CME on Imaging technique in Shoulder on 16th march 2019 Faculty: Dr Viratsinh Vaghela, Dr Swapnil Nalge
Unordered List ItemDepartment of Orthopaedic , GMC Surat organized CME on BASIC PRINCIPLE OF ILIZAROV TECHNIQUE on 7th April 2018
Faculty : Dr. H. P. Singh, Surat
CPC Meeting
There was a CPC organized by the Othropedic department in the collaboration with the department of Pathology and Radiology.
The cases discussed were: 1) Schwannoma Presented by Dr. Aditya Tripathi (R3 Orthopaedic), Dr. Saurabh Deshpande (R2 Radiology), Dr. Vishakha Gupta (R2 Pathology) 2) Giant cell lesion of bone Presented by Dr. Chandan Narang (R3 Orthopaedic), Dr. Hari Priyanka (R2 Radiology), Dr. Bhavika Dholiya (R3 Pathology)
| | | |
| --- | --- | --- |
| Date: 23/02/2021 | Time: 4-5pm | Venue: Physiology lecture hall |
Guest Facullty Lecture-2020
| Date | Faculty | Topic |
| --- | --- | --- |
| 20-09-2020 | Dr. Dhaval Desai | What matters in restoring function in proximal femur fractures – Current practices and review of Literature |
| 10-10-2020 | Dr. Sanjay Modi | Management of Non Union |
Core Works
Department of Orthopaedics is engaged in
1. Conducting OPD daily, in morning and evening hours [except on Saturday]
2. Attending to patients coming to casualty, 24 hours a day
3. Patient care in the wards in form of dressings, bandaging, plaster and splintage apart from daily rounds by the consultants.
4. Performing orthopaedic operations related to-
Trauma – stabilisation of fractures of upper limb, lower limb, pelvis and spine including polytrauma patients.

Joint reconstruction – Total Hip and Knee replacements and complex periarticular fractures.

Spine – fracture dislocations in cervical and thoraco-lumbar spine, infections including TB, degenerative conditions like disc prolapse and
stenosis, deformity correction in scoliosis and kyphosis and minimal invasive surgeries.
Arthroscopy – for various injuries and ailments of knee and shoulder.

Paediatric orthopaedic conditions like CTEV, clubfoot etc.
5. Teaching Undergraduate students and Post graduate students through clinics, lectures, seminars, journal clubs and symposiums.
6. Issuing disability certificates for the physically handicapped, medical fitness of patients appearing before the medical board.
7. Participating in the disability and diagnostic camps organized by the Government of Gujarat.
LOAD
| | | | | | | | | |
| --- | --- | --- | --- | --- | --- | --- | --- | --- |
| | 2012 | 2013 | 2014 | 2015 | 2016 | 2017 | 2018 | 2019 |
| OPD | 51006 | 58183 | 62920 | 72082 | 86757 | 96336 | 109712 | 92735 |
| ADMISSION | 2528 | 2009 | 2179 | 2906 | 3001 | 2989 | 3741 | 3154 |
| SURGERIES | 2074 | 1783 | 2107 | 2716 | 2819 | 3031 | 3377 | 2613 |
ACHIEVEMENTS
Received MCI recognition for additional PG seat in 2013 [Total – 3 PG students / year]

Conducted a Live Surgical Workshop on Total Hip Arthroplasty in the new Modular OT complex in Sep 2014.

Podium presentations an d lectures by the faculty at various conferences and lecture course

Performing surgeries for complex spine deformities [ first time in South Gujarat]

Total Hip and Knee replacements surgeries done in the institute with components being provided through govt. grant.
EQUIPMENT
State of the Art Modular OT complex

C-Arm with IITV

Arthroscopy set

Spine Endoscopy system

Minimal invasive system for fracture treatment
PLAN
With rapid progress in the field of orthopaedics and in an era of specialisation , the department does not wish to lag behind. We would like to have dedicated units for Spine, Arthroplasty, Arthroscopy and Paediatric Orthopaedics along with facilities for managing complex trauma

With the setting up of the Stem Cell Institute in Surat, we would like to co-ordinate for stem cell therapy in various orthopaedic conditions

This would not only benefit the people of South Gujarat and adjoining states, but also the UG and PG students who come here to gain knowledge and stay abreast with the modern times.
POST GRADUATE LECTURE COURSE
This was a lecture course organized for post graduate students of Gujarat. The purpose of the course was to prepare them for PG exams, improving their fundamentals in orthopaedics, better clinical approach, X –ray reading & better understanding of surgical procedures. More than 45 residents of all medical college of state participated in the event. Eminent faculty from within the state & outside were present to grace the occasion & share their knowledge with the students.
POST GRADUATE QUIZ & CME ON BASIC ARTHROPLASTY
CME on basics of arthroplasty with eminent faculty from state to share their knowledge & views for better understanding of principles of Joint Replacement was organized followed by Post Graduate Quiz competition which consisted of MCQ based elimination round followed by direct questioning of selected 6 candidates. Purpose of post graduate quiz was to select top two students from the state of Gujarat to represent at a national level quiz at IOACON, Kochi. Dr. Shaishav Shah from GMC, Surat stood 1st in State out of 45 representatives & 4th at National level in this competition.